The Next Decade of Service
For over thirty years, American Brotherhood Weekend (ABW) and its titleholders have served the broader LGBTQ kink and fetish community with dedication and enthusiasm through volunteering, fundraising, judging, and more.
The role of the American Leather Family titleholders are special in that they are expected to serve the community during the title year. Each titleholder is to act as an inspirational communicator capable of effectively raising funds, speaking, or volunteering for worthy causes and organizations relevant to the LGBTQ community.
Steven Carlisle, American Leatherboy 2016, hails from Palm Springs, California where he lives with his SIR of more than 20 years. Originally from North Carolina, Steven got his start in the leather community in the early 1990s when he stumbled into a leather bar. After that night, there was no stopping Steven. He joined Tarheel Leather Club and started attending events on the East Coast soon joining GMSMA and Atlanta S/M Solidarity. In late 1997, Steven moved to San Francisco and soon after met his SIR. Steven and his SIR moved to the Southern California area in 2010 where Steven has become active in the local leather community. He entered his first contest, Mr. Regiment Leather, in the fall of 2015 where he placed 1st Runner-up. Steven was the Marketing Director for Los Angeles Leather Pride, which produces the Mr. LA Leather Contest, from 2015 through 2016. Further, Steven is an Associate Member of The Chicago Hellfire Club and the past President of the LA Boys of Leather, an organization dedicated to helping boys network and learn. In 2020, Steven became the owner and producer of American Brotherhood Weekend. Some of Steven's favorite hankies are yellow, black, purple, red, hunter green, navy, and houndstooth.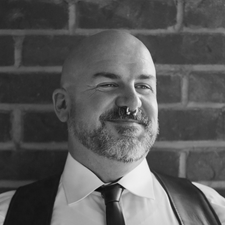 Steven Carlisle
Daddy Sky Cotton is proud to have served the Leather Community under 3 titles. American Leather Woman 2018, Great Lakes Ms. Leather Pride 2017, and Ms. Illinois Leather Pride 2017. She's a Chicago based Leather Dyke, whose personal lust for Kink, Fetish, and Leather Lifestyle spans more than 30 years.
In 2005 Daddy Sky created Vespertine Chicago because she was dissatisfied with extremely limited play and BDSM Arts education options geared specifically towards Women, Gender Non Conforming persons, Non-Binary persons, and Transfolk. She has dedicated herself to a core mission of fostering Kink and Fetish in everyone she meets. Daddy Sky lives to steward the next generation of healthy, Sex Positive People by creating a safe space in which Queer Folx are centered, so they may play, learn and grow. A portion of each event's proceeds are donated to local charities.
Daddy Sky has spent the last 16 years working in Kink, Leather, and Pleasure at Mephisto Leather,Tulip Toy Gallery, and Leather 64Ten. She is proud to be serving the Leather and Kink Communities at a grassroots level again at Leather 64Ten.
Daddy Sky is a Supporting Member of the Leather Archives and Museum, and volunteers at International Mr. Leather Weekend. She has served as a Judge, Tally Monster, Den Daddy, Educator and Event Host.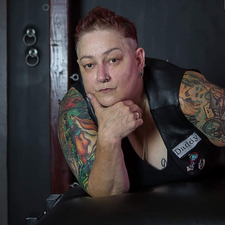 Daddy Sky Cotton
Alyssa Durnien, the first Ms. D.C. Eagle and a former Ms. Woods Leather 2017.
Alyssa initially started her Leather life within the community in 2015 as a part of the NJ Leather Family. She went to the Woods Campground for Leather III, and the Mr. and Ms. Woods Leather Contest for 2015 and she quickly realized she had found her true home.
Alyssa met and was handpicked by Sandy Mama Reinhardt as Mama's Pink Leatherette during the contest in 2015, (Pink being Alyssa's favorite color and all) and she identifies as a Chap Stick lesbian.
In 2016, Alyssa competed and won the title of Ms. Woods Leather 2017. During that year she attended leather events all over the Mid- Atlantic region, and worked effortlessly to raise funds for various charities such as the Leather Hearts Foundation, Monroe County Children and Youth Services, as well as The Woods Camp Fund. She conquered all expectations and achieved the ultimate goal of giving producer Jim Bennett the infamous glitter beard.
She hosted the first successful charity event at the former Baltimore Eagle called the Ladies of Leather, MCed the Kinky Playground, judged Mr. Maryland Leather 2017.
Alyssa ran for the title of Ms. DC Eagle 2019 with the support and encouragement from her Woods Leather family attending the contest. During her current title year Alyssa has MCed the MX Virginia Leather Contest, and the MALW and MALWBB contest. She has judged the Ms. Gay Arlington and BBM in 2019. Alyssa participated in a few flogging 101 classes and raised money for local charities. Alyssa has traveled during her title year to all the Eagle bars on the East coast. From Providence town all the way to Atlanta. Alyssa was stage manager for Mr. Virginia Leather 2019. When Alyssa isn't on the road attending events, Alyssa still enjoys chosen family time and down time at the Woods Campground. Alyssa became the first female club member of the Bucks MC in 2020 and is the First Female to be on the Board. Alyssa looks forward to spreading her wings and working with the amazing family of ABW.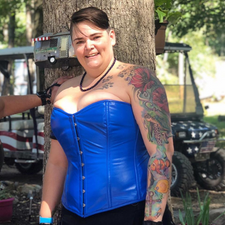 Alyssa Durnien
A native New Yorker, Rod is the co-founder of the ONYX Mid-Atlantic Chapter, where he served first as President, and later as Pledge Master. Rod has also moderated and presented for a variety of programs and events, including DC Leather Pride; Black Rose; BlackOut (ONYX's annual run); the Master/slave Conference; Kink U; Detroit Leather Expo; Leather Leadership Conference, Cleveland Leather Awareness Weekend (CLAW); and Minnesota Leather Pride Weekend. Among his presentations, Rod created Beyond the Red Ribbon, the HIV/STI Prevention workshop developed specifically for the Leather and Kink lifestyle. Rod is known for his spanking classes; he also co-created the People of Color class track for CLAW with Tyesha Nicole Best.
Rod earned his first title as Leatherman of Color in 2011. Rod is also an alumnus of the MTTA 2008 Masters' Training. He has previously served as a judge for the 2012 Leatherman of Color contest, the 2013 Mr. Maryland Leather contest, the 2014 Twin Cities Leather contest, the 2014 Tri-State Leather contest, the 2018 Atlantic States Leather contest, the 2018 Minnesota Leather Pride contests; the 2018 ICON Leather contest, the 2019 Mr. Missouri Leather contest and the 2019 ILSb-ICBB contest.
Rod is proud of winning the Pantheon of Leather Northeast Regional Award for 2014, and the Pantheon Man of the Year in 2018. He is also honored and humbled to have served the Leather community as the American Leatherman 2017. Rod's kink fetishes include spanking, ass play, flogging and fisting.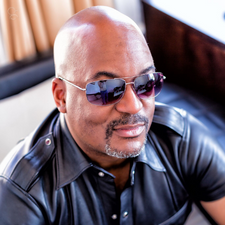 Rod McCoy (aka Rod Onyx)
Sir Ivan is a Minnesota leather person committed to working with his community to expand the participation of people in leather and kink. This led him to his involvement in founding and organizing BLUF Minneapolis and Twin Cities Rubbermen. More importantly, as a Latino, Sir Ivan is a fervent advocate for the visibility and leadership of people of color in leather. To this end, Sir Ivan helped create and is a board member of Twin Cities Spectrum, a club for people of color interested in exploring leather and kink.
Sir Ivan is an active player and enjoys a wide range of kink interests. He is passionate about educating on BDSM and discussing issues central to an approachable, equitable, just, and sex positive leather community.
Sir Ivan is International LeatherSIR 2016, Great Lakes LeatherSIR 2016 and Minnesota Leather Sir 2015.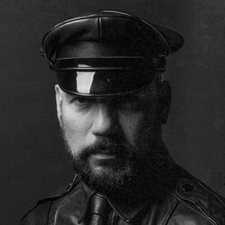 Sir Ivan
SIR Jay was International Leather Sir 2018. He is a former Great Lakes Leather SIR and Michigan Leather SIR. Jay discovered his love for leather and kinky sex 15 years ago at the young age of 19 and never looked back. Since then he has been nicknamed little daddy and switchy Sir, and is a proud P.O.C. poly kinkster. SIR Jay is a passionate advocate for fetish education, R.A.C.K., creating safe spaces for fellow P.O.C.s and other marginalized folxs. You can generally find him playing punch the puppy, talking about fisting or introducing newbies to rough body/impact play. Jay also has a not so secret love/weakness for boys, daddies and puppies. Sir Jay is married to his husdog hank as well as having 3 other pups collared to him. He is the current Vice President of the Michigan Band of Brothers. He is an educator and puppy wrangler, community Sir/handler and boy to his daddy. SIR Jay has been a judge, den daddy, contestant handler and tally master. It is with great honor to become a board member for American Brotherhood Weekend (ABW) and looks forward to creating and maintaining a safe and inclusive space for all!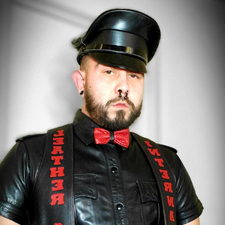 Jay Taylor
Steph Sanders was born and raised in South Florida, but currently resides in Charleston, SC and identifies as a butch dyke and Daddy. She is most often found causing shenanigans on the back patios of gay bars, smoking cigars and drinking coffee, or corrupting the innocent in some other way, shape, or form. If you can't find her there, she is probably out somewhere volunteering, or in a corner under some girls skirt and will be with you momentarily. A proud member of the Hedonist Society.
Steph Sanders
Issa Arden has been a player for over 30 years and a leather community member for over 20. She is newly on the Board of American Brotherhood Weekend having been the Contestant Coordinator for the event for 6 years. She also serves on the Executive Committee of Mr. International Rubber. She is on staff for International Mr. Leather and previously held staff positions with Leather Hall of Fame and Illinois Leather Alliance. Arden is working on various PoC and Bisexual visibility projects, has judged numerous contests, including International Ms. Leather and International Puppy and Trainer, Mr. Midwest Rubber, Twin City Leather, ABW, and Mr. Ebony Leather. She has been a presenter on race and alternative gender modes in leather and an educator on topics from corsets to cigars to wax play. She curated Excavating Experience: The Presence of LGBTQ People of Color in Cook County and the Bay Area Leather History pop-up and co-curated the Chicago Leather Contests and Titleholders pop-up for the LA&M. Arden held two Louisiana leather titles, was an NLA-NOLA Board member, and developed and hosted numerous New Orleans fetish parties.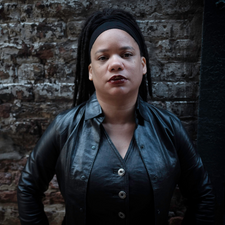 Issa Arden
Jazz Thomas came into the gay leather scene in Chicago in the early 1980s. He is Mr. Olympus Leather 2000 and was first runner-up for American Leatherman 2002. He served as co-producer for ABW in 2008 and 2009 and designed the logo for ABW in use since then. Jazz has been a charter member of the Knights of Leather in Minnesota since the club transitioned from women's BDSM organization to a pansexual club in 2000. In Minnesota, Jazz redefined Minnesota Leather Pride and continued to grow the organization as a member of the board until just a few years ago. Jazz is an associate member of the Atons of Minneapolis and Chicago Hellfire Club. He has been partner to Bobbie Smith for 21 years, Sir to girl vicki for most of that time, and was formally collared by Sir Mark Duda in 2019.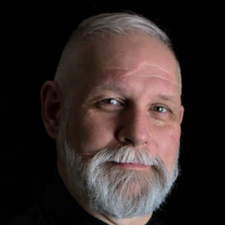 Jazz Thomas
boy chris started his leather life in 2004. Thunder in the Mountains was his first leather event. He won the Mr. Wrangler Leather title and competed at International Mr. Leather in Chicago in May 2005. After attending American Brotherhood Weekend in 2005, he decided it was time to have a boy's group in Denver, and he is a Founding Brother and former President of the Denver boys of Leather. In July 2008, Chris became American Leatherboy at American Brotherhood Weekend in New Orleans. Chris presented at the Ascension Fetish Ball events in Colorado Springs, the Exile Fetish Ball events in Denver, and the Atons Gopher Run XXI in Minneapolis. In past years, he served on the judging panels of Mr. Leather Colorado, Colorado Master/slave, American Brotherhood Weekend, Heart of America, Great Lakes Leather Alliance, and International Deaf Leather. Chris recently stepped down from Rocky Mountain Leather Alliance after serving many roles for 13 years. He continues to encourage fun and camaraderie to the Denver leather community.
Boy Chris