SAVE THE DATE! ABW2020 will be held August 14-16, 2020 in Chicago!
Our HOTEL BLOCK is now open!
Contestant applications will be available on February 1, 2020.
Check back frequently as details for ABW2020 develop!
---

FOR IMMEDIATE RELEASE

AMERICAN BROTHERHOOD WEEKEND ANNOUNCES NEW OWNERSHIP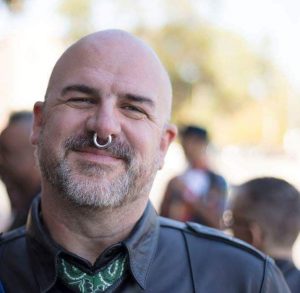 Steven Carlisle, American Leatherboy 2016 and Owner, American Brotherhood Weekend.The producers of American Brotherhood Weekend, home of the American Leatherman, American Leatherwoman, and American Leatherboy titles, are proud to announce that effective January 1 2020, ownership will be transferred to Steven Carlisle, American Leatherboy 2016.

Dean Ogren, co-producer, notes that "after owning and producing ABW with my amazing team, I want to ensure that ABW thrives for years to come, and new ideas and new, invigorated ownership, is the best way to do so".

Mr. Ogren continues, "I wanted to ensure that the spirit, heart, and soul of ABW continue on, and I was very pleased to find that desire in Steven Carlisle, one of our own ABW titleholders. With his skill set and love for the contest, I am confident that American Brotherhood Weekend will continue to be a weekend of fun, family, and fellowship while growing and adapting to our changing community."

Steven Carlisle, of West Hollywood, California, commented "I am excited, humbled, and honored to take the helm of ABW. For three decades, ABW has served the LGBT leather community. I look forward to continuing the legacy of service. I hope to see so many of our family - both new, and established - in Chicago in October!"

American Brotherhood Weekend, entering it's 31st year, is held each year in Chicago, Illinois, and welcomes attendees and contestants from all over the United States. It's titleholders are active in local and national communities, raising funds for charitable organizations and bringing attention to the causes they hold dear while having fun and representing the American Leather Family. For more information, you can visit their website at https://www.americanbrotherhood.com or their Facebook page at https://www.facebook.com/ABWLeather/

CONTACT:
American Brotherhood Weekend
Steven Carlisle
Leatherpig, LLC
Email: This email address is being protected from spambots. You need JavaScript enabled to view it.
---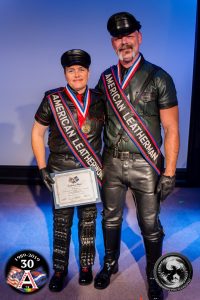 American Leatherwoman 2019, Ms. B Raven and American Leatherman 2019, Cody Bear.The 30th American Brotherhood Weekend is now in the record books.

The producers and staff of American Brotherhood Weekend wish to thank everyone for attending and supporting this year's event!

FOR IMMEDIATE RELEASE
American Brotherhood Weekend names 2019 American Leatherman & American Leatherwoman titleholders

The 30th American Brotherhood Weekend, held this past weekend in Chicago, Illinois, culminated in the naming of the 2019 American Leatherman & American Leatherwoman titles. Ms. B. Raven, of Canton, Michigan is the new American Leatherwoman; Cody Bear, of San Francisco, California has been named as American Leatherman. Sir James, of Cleveland, Ohio was the first runner up for the American Leatherman title.

The ABW producers and staff were pleased to also honor Caity Lynch with Jeff Baxter award, acknowledging her work to promote and support American Brotherhood Weekend. They also presented the second "Vern Stewart 'Oh I See' award", and chose to award it to Johnny Flexx and boy Tyler Fong. The Vern Stewart Award is given to past titleholders to honor their work within the leather & LGBT communities since stepping down as ABW titleholders.

The ABW event schedule spanned four days, with events ranging from family dinners to fund raisers to the contest itself, welcoming attendees from all over the United States. Attendees gathered at the Leather Archives & Museum for two days of contest action, where they were entertained by emcee Karen Ultra, and enjoyed bar nights & events sponsored by Touche', M.A.F.I.A, Onyx, and LRA.

ABW is also pleased to announce that, as a result of fundraisers held throughout the weekend, they were able to donate over $600 dollars to Vital Bridges, a Chicago charity that serves HIV+ people in the region.

ABW would like to thank it's other sponsors, including: Presenting Sponsors - Johnny Boy Birdsell, Palm Springs Leather Weekend and an anonymous donor; Premier Sponsors - Bulldog Custom Leather, Chicago Hellfire Club, Leather 64Ten, Joan Norry/Caity Lynch, One Web Company, Uberlube; and Friends of ABW - MJ and Nora, as well as an anonymous donor.