2015 Title Family
Dan Ronneberg
American Leatherman 2015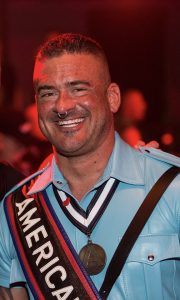 Dan was American Leatherman 2015 and Mr. DC Eagle 2015. He competed in IML 37 where he placed 6th. Dan works for the federal government, serves as a union president for 2,500 federal workers, and was the National President for his agency's LGBT Employee Association for half a decade. He is the producer of the Mr DC Eagle contest and has been an officer for DC Leather Pride for the past several years. Dan attended 54 events his title year as ALM, judging numerous contests and supporting a wide range of leather and LGBT related charities. He continues to attend leather events and judge contests including serving as a reviewer/judge for the National Leather Association's literature competition. Dan was honored in 2017 with a President's award from the Imperial Court of Washington DC and in 2018 with the Marcus Hernandez International Leather Leadership Award from the Queen Mother of the Americas for his efforts in bringing the Court and Leather communities together to jointly support a number of local charities and inclusive events. He lives just outside Washington, DC with his husband Tigger (IML 2016), collared boys Randy and Todd (MAL 2016), and has a dog under consideration for a family collar. Dan is passionate about tackling HIV stigma and promotes PrEP education as part of a personal risk reduction plan.

---


LE
American Leatherwoman 2015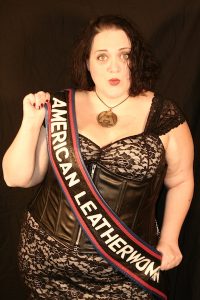 LE walked into a dungeon the summer of 1995 and has been exploring and growing ever since. For years, she would make things happen from behind the curtain serving at various capacities on several event planning committees. In 2011, LE began the mega-project of coordinating the IMsBB 15th Annual Celebration seeding the High Shine documentary and creating the IMsBB Challenge Coin tradition. LE is a three time Pantheon of Leather nominee. She is "Mama's Portuguese Princess" and has been honored to serve as American Leatherwoman 2015.

LE continues to charm her way into people's hearts. Whether she is volunteering, performing, judging, teaching, or speaking, she always enjoys serving her community.

---


boy Pup Max
American Leatherboy 2015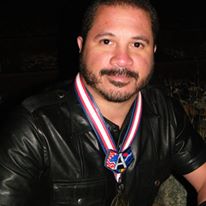 Boypup Max lives in Orlando, FL. Max enjoys many kinks and fetishes including cigar play, nipple play, boot worship, belly/navel worship and food play just to name a few. Max has been involved in the leather community for several years. In 2011, he was Co-Founder of Arizona Leather Bears and Cubs and served as their first Secretary. Later that year, he became a member of Phoenix boys of Leather. In 2012, Max moved to Tampa, FL and won the title of Tampa Bay Leatherboy 2013. He founded Central Florida boys of Leather and served as their first President. Max became a member of Tampa Leather Club later that year. In 2013, he won the title of Florida Leatherboy 2013 and represented his region at International LeatherSIR/boy 2013 and was Second Runner Up. In 2014, he moved to San Antonio, TX. He assisted Heartland Leatherboys in setting up and is a Charter Member. In 2015, Max decided that serving the community included more than just leather. He became a member of the Royal Sovereign and Imperial Court of the Alamo Empire and served to their Majesties as Count del Sol and Duke de Valero for Reign 24. He was also a Postulant with the San Antonio Sisters of Perpetual Indulgence, Abbey of the Alamo. Later in the year, Boypup Max won the title of American Leatherboy 2015 during the American Brotherhood Weekend. Max is very excited to celebrate the Year of the boy and is honored to serve as this year's title holder. Most recently, he moved back to Florida where he serves as Alpha boy of Central Florida boys of Leather.

E