2014 Title Family
Dominic Chevalier
American Leatherman 2014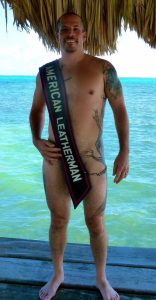 Dominic Chevalier has been active in the community for many years and has had many roles over the years (boy, Sir, submissive) which has helped him gain perspective about our Tribe and our culture. He has held several titles since entering the title circuit; Oregon Leatherboy 2006, Mr. Oregon State Leather 2008, NW Leatherboy 2009 and most recently he was the American Leatherman in 2014. Dominic was given the honor of being Leather Man of the Year 2009 for Oregon. That same year he was accepted in to Mama Sandy Reinhardt's family as Mama's Egypt Lover. He is a founding member and previous Treasurer of the BiLS-Rose City (Boiys in Leather Service) and held the position of Vice President for Blackout Leather Productions. He is currently the President of Palm Springs Leather Order of the Desert.

After many years of living in Portland, OR, Dominic moved to beautiful Palm Springs, where he was immediately accepted in to the local leather tribe. Dominic has many interests including international traveling, cooking, classic films, marine aquaria and Egyptian history. His kink interests are varied, but he has a love of fisting and intense piggy play!

Although life has many callings he is by design a Leatherman in service to the community, Sir to his boy Todd and a proud member of his leather family.

---


Eileen Sanders
American Leatherwoman 2014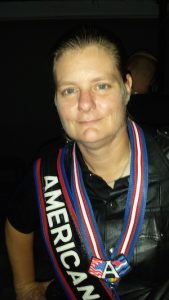 Eileen Sanders resides in South Florida, although she calls the Savannah, GA home. She is a proud Member at Large of the Coastal Empire Sentinels, an honorary member of the Hedonist Society, and an associate member of Low Country Leather. Eileen previously held the title of Ms. Southern Coastal States Leather 2013 and is honored to serve as American Leatherwoman 2014. Eileen gives back to her community by working with the Bill Messier Food Pantry and the Metropolitan Community Church of the Palm Beaches every chance she has. She also serves on the board and is a co-founder of Treasure Coast Community Pride. Eileen's kinks are flogging, spanking, needles, and cigars primarily. When Eileen is not running around like a chicken with her head cut off, she enjoys coming home and curling up with her girlfriend, a calico cat named Tiger, which of course makes her wife very jealous.

---


boy Dave
American Leatherboy 2014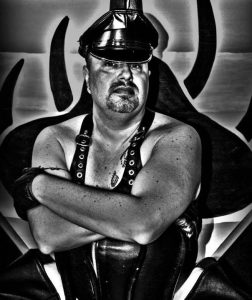 boy dave is a 45 year old, single and un-collared, gay male from North Carolina. he began his leather journey in the fall of 2000 and hasn't stopped since. boy dave's focus is on service. he enjoys boots, cigars, boots, rope, boots, body punching, boots and is open to other activities with the right person. boy dave also holds the title of South East Bootblack 2011 and South East Leatherboy 2004. he is an Alumni of the Charlotte Tradesmen and a member of the Staff for South East Leatherfest (aka SELF). boy dave has served as Judges' boy, Presenter and Judge at events and conferences across the country.