2013 Title Family
Aaron D
American Leatherman 2013

A native of Texas, Aaron began a life as a sexual outlaw in 1998. In 2011, he moved to San Diego, California where he won the title of Mr San Diego Leather 2012. Mr Duke went on to capture the title of American Leatherman 2013. He now resides in West Hollywood, California where he is a high-end residential designer with one of Architectural Digest Top 100 Designers. Aaron enjoys inspiring and motivating people to achieve greatness in their lives and community. He is affectionately know as Leather Oprah and is a proverbial shit-starter on Facebook questioning the norms of conventional leather thinking. Recently, he has become and advocate and activist for PReP. Sexually, he is a switch with an invisible line that just keeps moving.
---


OB
American Leatherwoman 2013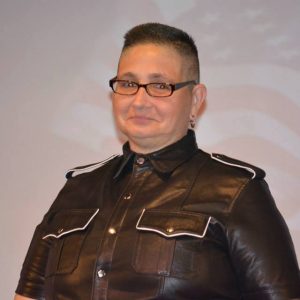 OB Hamm has the distinct honor of winning the titles of American Leatherwoman 2013 and Mr. Southeast Leatherfest 2012. OB is the Creator/owner and face of Owhips from 2009 to 2014 and was honored with the Pantheon Of Leather's Business Person of the Year Award for 2012. OB currently is a wholesale whip distributor of top quality kangaroo whips for Owhips and others whip conesours. His newly formed and under construction Website is OBHamm.com.

OB recently published an f/f romance with Less Than Three press and has a short story in the Ravenous Romance Anthology Summer Flings. He is a Butch Dyke Daddy Dominant type, whip fanatic and lover of blood play. He is also the happy Daddy of Angel Propps. Between them, they have taught classes across the country on a variety of subjects from genderfucking, puppy play, to whips, to writing erotica. OB is volunteering in his spare time and has donated thousnds of dollars for events, contestants and charities.

OB has had the opportunity to judge Southeast Olympus and the international Transgender contest in Atlanta Georgia.
---


Barrett "Tank" Teachworth
American Leatherboy 2013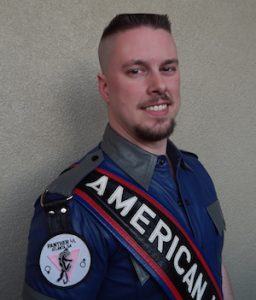 Pup Tank Teachworth resides in Atlanta, Georgia. He is an active full member of the Atlanta based leather club Panther Leather/Levi, and also supports ATL-PAH (Atlanta Pups and Handlers). He is also an associate member of the Jersey boys of Leather. Pup Tank works full time as a restaurant manager in a steakhouse north of Atlanta, and also works part time bar tending for the Atlanta Eagle, his home bar, where he won his first leather title in 2013, Mr. Atlanta Eagle. He is also Mama's All-American Pup.

"My time as Mr. Atlanta Eagle has been an incredibly powerful experience. I've had the pleasure of supporting a variety of charitable organizations, such as Lost and Found Atlanta (a youth LGBTQI homeless shelter,) Alphabet Soup Atlanta (a Transgender support group for friends, allies, partners and men and women in transition,) P.A.L.S. Atlanta (Pets Are Loving Support) and Leather Heart Foundation. Being Mr. Atlanta Eagle has allowed me the opportunity to make the Atlanta Eagle not just an iconic leather bar, but a home to many who felt they had no place to belong. It has truly been one of the greatest pleasures of my life serving as Mr. Atlanta Eagle." To transition all that from a local bar title into the national stage has been "a tremendous blessing, and I could not be more fortunate, as I am surrounded by the best men and women, and hearts and minds in the community through the American Leather Family."

Pup Tank also enjoys making the good pups go bad! His kinks and fetishes include puppy play, impact play, breath control, uniforms, sports gear, humiliation, interrogation play, power exchanges, and many more.

As the American Leatherboy 2013, Pup Tank has chosen to champion a cause in men's sexual health, specifically through PrEP, Pre-Exposure Prophylactic, a medical treatment used in conjunction with condoms to further prevent the spread of HIV/AIDS. He feels as though we must embrace every opportunity to affect change in our community, and if only one life is spared, then the effort is absolutely worth it.

Pup Tank would like to express his deepest gratitudes to Atlanta Panther Leather / Levi for supporting him from the first time he put on leather in public until now, as well as Sir Alan Penrod, Pup Nitro Hankinson, Daddy Sal Susino and Daddy Dion Daly-Susino, and the Atlanta Eagle, for being the playground every pup deserves.