2012 Title Family
Jeff Donaldson
American Leatherman 2010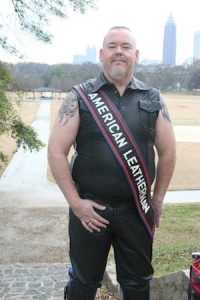 While he has been a leatherman for the greater part of his adult life, he has only become fully active in the leather community after moving to Atlanta 4 years ago. He is an in town associate member of Panther L/L and attributes many of his accomplishments to the encouragement of his club brothers and sisters. After winning Mr. Atlanta Eagle 2012 he went on to win American Leatherman 2012 in Chicago. His goals as a titleholder include raising awareness for homeless LGBT youth via volunteering his time for Lost and Found. He lives with his partner, James who is constantly a great support system.



---


Doc
American Leatherwoman 2012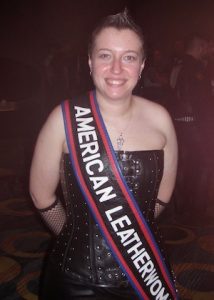 Doc is a Doctor of all things physical and therapeutic who hurts the elderly for a living, and who has been an active member of her local kink community for 6 years. While she knew for most of her adult life that she identified as a Leatherwoman, Doc discovered the Pittsburgh Leather scene almost 3 years ago…and life has not been the same since! She is an incredibly proud full member of the Three Rivers Leather Club, and served her local community as Ms. Pittsburgh Leather/Fetish 2012 before going on to win the title of American Leatherwoman 2012. Doc's goal as American Leatherwoman is to raise awareness about sexual assault and rape and where we, as Leatherfolk, can find help for our brothers, sisters, and selves when confronted with such horrendous situations. She lives in Pittsburgh and is a collared boy to her partner, her rock, and the love of her life, Sir T, who is an endless supply of support, encouragement, and love.