2011 Title Family
Tom Savage
American Leatherman 2011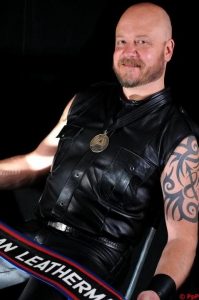 Originally, from Colorado, Tom moved to New Jersey with his husband Danny in 2002 to be closer to his daughter. Looking for a way to get involved in the LGBT Community, he became interested in the Leather/Kink Community, finding a masculine and edgy feel about it that drew him in from the fringes. Looking for involvement, a way to give back to the community, brotherhood, and family to do it all with, he took the plunge and found his place in the New Jersey Leather Community.

In 2005, he won the Mr. New Jersey Leather 2006 title. Among the fundraisers Tom produced during his title year, he is best known for his Chili Cook-off event benefiting the Center of Asbury Park, a volunteer service organization assisting people living with HIV/AIDS. The Chili Cook-off is now entering its eighth year and continues to pack the house, gathering people from around the region. He was a vaccine volunteer with Project Achieve in one of their HIV vaccine trial programs for nearly five years and continues to volunteer in their studies today. He is also co-founder and logistics coordinator of "Foreplay", a leather, bear, and kink block party benefiting New Jersey Pride held in Asbury Park, New Jersey kicking off that state's LGBT Pride acivities.

Tom continues to be a leader in his community, while always being open to learning and gaining inspiration from others. Mentoring new members in the Leather Lifestyle has always been important to Tom, and he has been considered by some to be the big brother in his local Leather Community. He claims to be no expert in any specific kink, but enjoys electro-play, thud, exhibitionism, experimenting with various other kinks and scenes, and has taken a strong interest in flogging this year. Tom has spent his title year travelling to events around the country, volunteering and raising funds for various charities, judging contests and hosting a few events on the side. He is proud and honored to have served as American Leatherman 2011, and looks forward to being part of ABW's future endeavors and continuing to serve in his community.
---


Trinity
American Leatherwoman 2011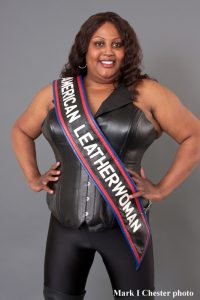 Photo by Mark I Chester.

Trinity describes herself as an evolving femme submissive with service top attitude. She is somewhat of a newcomer to the leather community–four years–and has been to various Bay Area leather events. A single parent and hard-working leather woman, Trinity's interests include service, education, artistic needle play, D/s, leather history, rope and Florentine flogging. She is described by some as kind, trustworthy and ambitious; a busy woman with a knack for filling her dance card way beyond capacity. Trinity believes that staying busy, building bridges and fundraising have their rewards.

Prior to her involvement in the leather community, a series of events caused her to question her path. She decided to shake off the confines of society's mores in favor of living her life her own way and on her own terms. It was then that she discovered the leather community and opened a delicious new chapter in her life.

Trinity's community service includes emceeing, fundraising and volunteering. She has produced events in support of charities such as the East Bay Children's Book Club and COLAGE. Whether she's working behind the scenes or putting the fun into fundraising, Trinity continues to lend her time and energy to projects that effectively serve the LGBTQ community.

Trinity is proud of her titles, Ms. ACL2010 and American Leatherwoman 2011. Her current title responsibilities have gained her national recognition and she is enjoying her travel and meeting new people. Even though she has much to learn, Trinity has no doubt she will find her niche while staying spiritually grounded and forming lasting relationships. She is intrigued by how much the leather community has to offer and looks forward to continuing to serve in the community.
---


Tyler Fong
American Leatherboy 2011/2012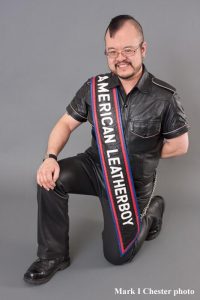 boy tyler got his first taste of S/M at the Wet Spot in Seattle during a Female-to-Male (FTM) conference! Living in the San Francisco Bay Area provided him with ample opportunity to explore Leather Clubs, contests, fund raisers and build his BDSM skills in the gay men's community. The Leathermen's Discussion Group in San Francisco and workshops at contest weekends across the USA have continued to expose him to the vast and varied world of kink, fetish and leather.

He currently serves as Outreach Chair as a Fraternal Member of The 15 Association and loves to hang out with his pack brothers in the SF K9 Unit. If he's not volunteering at a fund raiser (Folsom Street Fair, Up Your Alley, Mama's Family…) or contest (International LeatherSir/boy and Community Bootblack, Mr./Ms. Alameda County Leather) he can usually be found with one of his three music performance groups. He is a classically trained musician on the French horn and has concerts throughout the year with the Contra Costa Chamber Orchestra, Danville Community Band and San Francisco Lesbian/Gay Freedom Band.