2009 Title Family
Alex Lindsay
American Leatherman 2009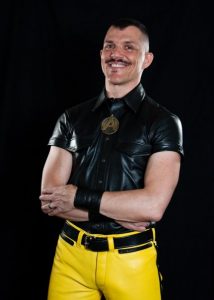 Alex is a longtime member of the leather community, with a variety of interests that range from politics to event production to mentorship to languages to public play. He loves rubber, leather, gear in general, hot men in hot uniforms, electro, flogging, mummification, sounding, chest punching…well…basically a bit of just about everything. Since moving to LA, he has become a member of Avatar Club LA, served as Vice-chair of the Los Angeles Leather Coalition, Vice-President of the Los Angeles Band of Brothers, Deputy Chief and Chief of the California B&B – LA Division and as President of the Los Angeles Bondage Club. Along with Loren Berthelson, he produces West Coast Rubber, and the Anvil Club parties, and they are co-editors of Leatherati.com. He is Mama's Rubber Boy and holds the titles of Mr. Regiment 2009 and American Leatherman 2009.

---


Dakota
American Leatherwoman 2009/2010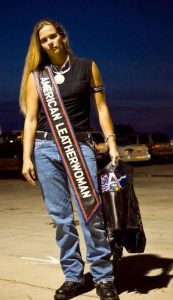 Dakota, American Leatherwoman 2009-10 is a proud dominant woman who has been in the Leather / motorcycl community for over ten years.

She is a charter member of CLAWS of Myrtle Beach, SC and has been their Sergeant-at-Arms since 2005. She is Ms. Reading Leather 2008; is a staunch supporter of the South East Conference of Clubs; and has been your American Lather Woman 2009!

Dakota has been honored to carry on the torch of American Leatherwoman through 2011 and continue her hard work and dedication to the Leatherwoman cause and awareness in her own unique sense of well Dakota!

---


Johnny boy Birdsell
Anerican Leatherboy 2009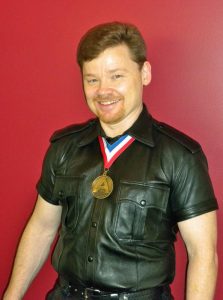 Johnny lives in Cleveland with his husband (mama bear). They have been together 20 years. They built a house in Cleveland proper and have been living there for just over 10 years. Johnny has been active in the GLBT community and is currently active in the leather community. He was a founder of the Ohio Boys of Leather and in 2017 started Cleveland's first gay dungeon called the 5710. He has taken to teaching BDSM classes which are open to everyone. Johnny was the first ever Mr. Flex Leather 2008 and American Leatherboy 2009. Johnny flags hunters green (naturally) dark pink and fuchsia (right and left) .