1994 Title Family
Sarah Humble
American Leatherwoman 1994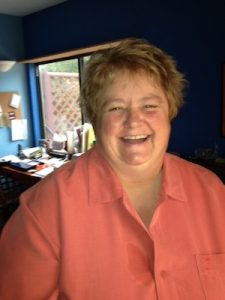 Sarah Humble–likes sports (especially football), dogs, the mountains, politics, duct tape and making bottoms red.

She grew up in Colorado and spent 17 years in Baltimore. Baltimore was an amazing place to be a leatherdyke! Sarah won the Ms Baltimore Eagle (1994) contest and 3 weeks later won a new title named American Leatherwoman. She had much fun traveling the country, judging contests including International Ms Leather and International Mr Drummer.
She co-founded FIST (Females Investigating Sexual Terrain), which celebrated its 20th Anniversary 2013. She also co-owned an award winning playspace called Play House Studios in Baltimore.

Sarah has won three Pantheon of Leather awards including Woman of the Year in 1996.
She was leather editor of the Baltimore Gay Paper for 5 years as well.

After having more fun than a leatherdyke deserves, she moved back to Colorado to retire on a porch swing. Instead, she co-founded the Women's Leather History Project at the LA&M. She also serves on their Board.

Sarah lives in a Denver suburb with her Kerry blue terrier (Berkley). She is single and often has an extra Bronco ticket.