2019 Title Family
Cody "CodyBear" Elkin
American Leatherman 2019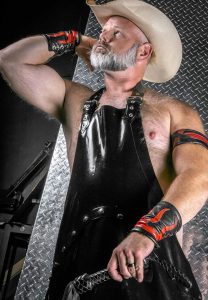 Originally from Pittsburgh, Cody is a San Francisco-based fisting top who flags hunter green on the left. Over the last 13 years, he has worked in a variety of LGBTQ communities including the Bears, Leather Community, Gay Rodeo, Imperial Court, Ducal Court, Bare Chest Calendar and more. Cody has also produced music events for the Bears of San Francisco and Lazy Bear Weekend. Since winning his San Francisco title, he's appeared on a number of local TV shows and podcasts talking about leather and his commitment to anti-bullying and suicide prevention. He has judged leather contests in Washington, Dallas, Sacramento, San Francisco and Saugatuck, Michigan, as well as served as "den-daddy" in Detroit. After finishing in the top 20 at IML, Cody has traveled extensively, participating in events in Cleveland, Los Angeles, Albuquerque, Orlando (including a vigil at Pulse Nightclub), South Bend, Sonoma County and Dublin, Ireland. Through it all, he's raised both awareness of the leather lifestyle and much needed funds – totally over $10,000 – while maintaining and building partnerships across multiple LGBTQ communities.
---
MsBRaven
American Leatherwoman 2019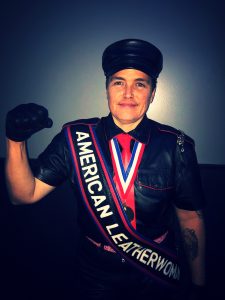 MsBRaven is proud to serve as American Leather Woman 2019. She has previously served as Great Lakes Ms Leather Pride 2018 and Ms Michigan Leather Pride 2018. She is member of The Michigan Band of Brothers. MsBRaven is an avid pet lover and groomer by trade. For her, Leather is the journey to the place where her kindness and ferocity can meet. She believes that when we are able share our kindness, laughter, strengths, weaknesses, imperfections and vulnerabilities we grow together in Leather. Her kinks are varied but typically include her hand or both her hands in a vagina. She enjoys sharing her 24 years of fisting passion through judging, tallying, presenting, play and conversation. She's yet to think of a fisting position not worth trying. She prefers at least a little laughter in her kink and a lot of kindness in her Leather.